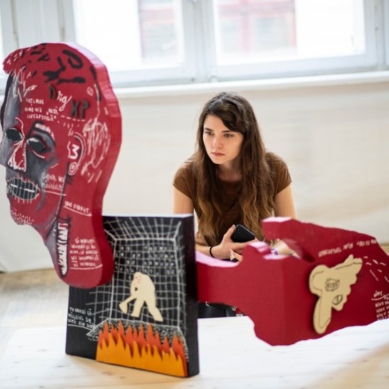 Through the exhibition "Young Blood, The Art of Your Times", Mihai Zgondoiu documents the new wave of early career artists, who no longer restrict themselves to the traditional techniques of creation, but use the multi-media of technology, accessible to everyone today.

The exhibition will include mixed drawings and paintings, interactive art installations, video-mapping, site-specific interventions, performance, media art, object / sculpture or experimental print. These hybrid practices merely illustrate the creative thinking through which the young generation of artists communicate through art and technology in the package.

The Supercontemporary pavilion is dedicated to the young generation of creators that gathers, under the same umbrella, a new wave of artists who are interested in the emulation of art with the science and the new social trends from online but also from everyday life. An x-ray of the new Romanian artistic scene in Timișoara, Cluj-Napoca, Sibiu, Iași, Bucharest and not only.