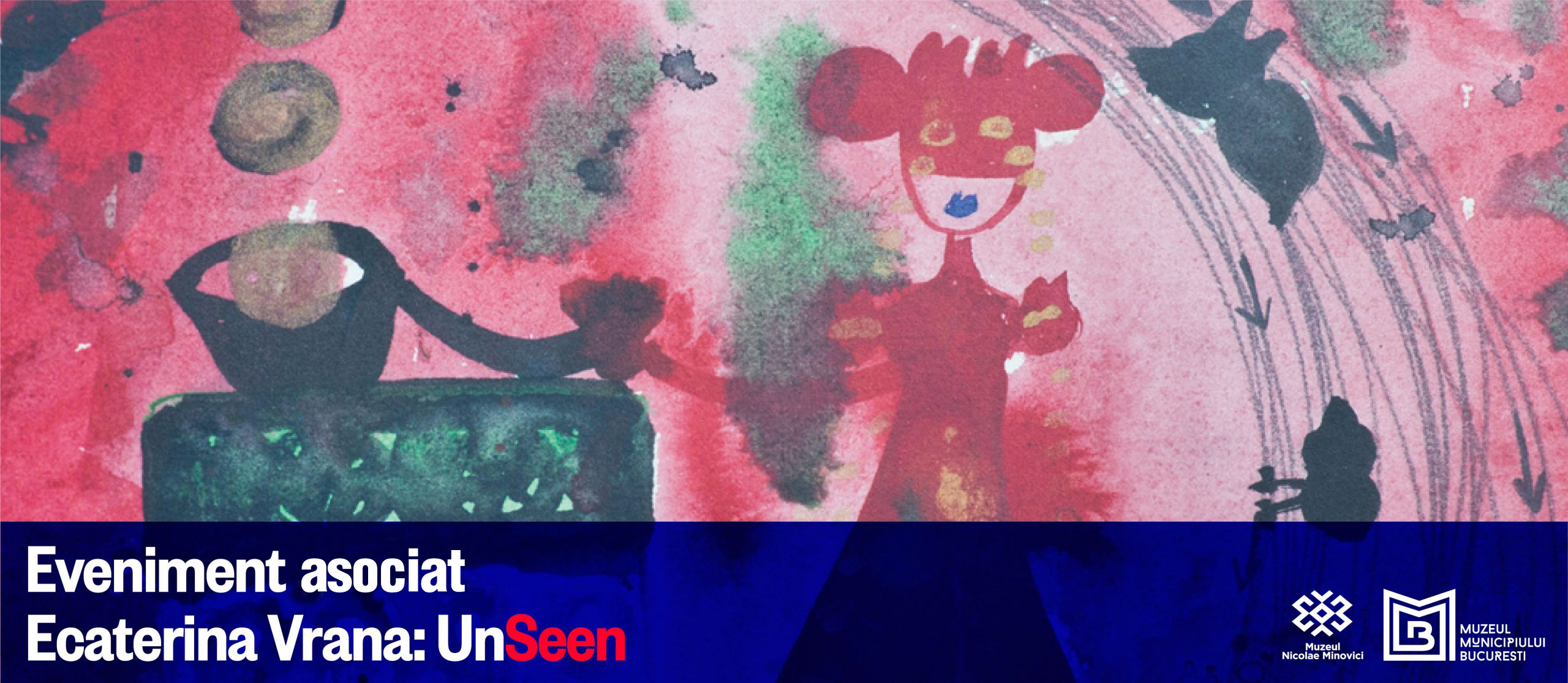 Posthumous painting exhibition – "Ecaterina Vrana: UnSeen"
The Museum of Bucharest invites the public to visit the "Ecaterina Vrana: UnSeen" exhibition, currently opened at Muzeul de Artă Populară Dr. Nicolae Minovici (1 Dr. Nicolae Minovici Street).
It is the first posthumous exhibition with works by this author made in a museum in Romania and presents a project of Art and Anthropology Sections within the Museum of Bucharest, which brings together paintings signed by Ecaterina Vrana both from private collections and from the MARe / Muzeul de Artă Recentă.
With studies completed at the Academy of Arts in Bucharest, in the class of Professor Sorin Ilfoveanu, Ecaterina Vrana made her exhibition debut at the University of Freiburg in 1993. She continued with numerous personal and group exhibitions and will be recognized in Europe and North America, being the first artist of Romanian origin to exhibit at the great contemporary art fair The Armory Show, New York (2016).
"The exhibition Ecaterina Vrana: UnSeen proposes an x-ray of the symbolic motifs encountered throughout the artist's creation and identifies a temporal curve in terms of evolutionary synchronicity of the characters that the artist plays in his work, either in her youth or in the sketch of the last work made by the artist.
Ecaterina Vrana (1969-2019) was and remains a singular presence in the space of Romanian arts. The artist's universe is remarkable for its true visual alphabet, but also for the strong emotion poured by its symbolic compositions rendered in a postmodernist style. An exponent of the Post-December generation, the artist positioned herself from the beginning as an unusual presence, especially through the sculptural way of using paint (paste), through the chromatic associations, but also through the apparent style of artistic innocence / "faux naïve".
Neo-expressionist by attitude, Ecaterina Vrana's art exudes mysticism, hypnotism, but also joviality. The attentive viewer discovers a whole semiotic dimension, timelessly located in a nebula of its own artistic universe. Tears do not flow in vain to Ecaterina Vrana. The tears metamorphose into almond-colored drops and start towards their transformative circuit. A route demarcated by concentric circles, even helicoidal, which encompasses the cyclicity and reversibility of life. From sadness is born happiness, and the artist has the (al) chemical formulas to acquire eternal youth, as it is written in the diaries meticulously recorded in her adolescence: From this moment I decided to paint my immortality. Ecaterina Vrana has fulfilled her mission, now it is up to us, the general public, to honor her creation and to ensure her proper role in the Temple of Arts ", said Felicia Raetzky, museographer and curator of the exhibition.
The exhibition can be visited until November 14, 2021.