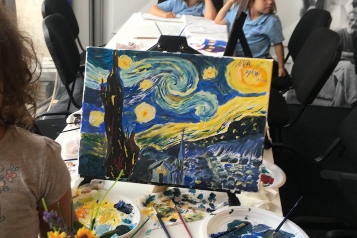 A brief imaginary trip to the Netherlands, where children will know Van Gogh and his work. The small artists will reinterpret and reproduce one of the world's most famous artworks of the "Night of Bed" or will be able to make a 3D painting in the Van Gogh style using various materials and techniques: drawing, painting, collage, modeling in plasticine "Sunflower").

The workshop will test creativity, fine motorism, aesthetic sense and freedom of expression.
All the necessary materials are included.
• Starry night 3D (6 - 12 years) - painting
• 3D Van Gogh Flowers (3 - 6 years) - collage
Schedule: Saturday and Sunday, from 12:00
Duration: 1 hour
Price / workshop: 50 lei / child
Additional information:  kids@artsafari.ro
Free admission to the exhibitions for children up to 12 years old, only when accompanied by an adult. Adults must purchase an entrance ticket to accompany the child to Art Safari workshops.