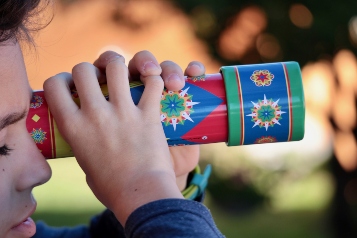 Have you ever looked through a kaleidoscope? The kaleidoscope is one of the most beautiful childhood toys, a magic cylinder made up of mirrors. A small colorful piece that forms a fascinating symmetrical image. Learn how to make a customized kaleidoscope!

All the necessary materials are included in the workshop price..
Recommended age: 6 to 12 years old
Program: Saturday - Sunday 12:00 - 21:00
Duration: 1h
Price / workshop: 50 lei /child
Additional information:  kids@artsafari.ro
Free admission to the exhibitions for children up to 12 years old, only when accompanied by an adult. Adults must purchase an entrance ticket to accompany the child to Art Safari workshops.