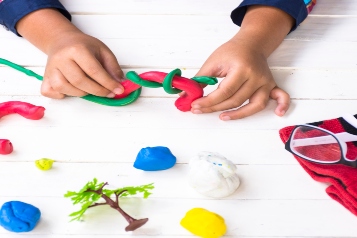 The pottery clay will transform any jar into a tiny magical house, a perfect place for a fairy or an elf. We will carefully decorate them and pay attention to important details to make the fairies and elves feel as comfortable as possible in their new homes.
Playing with modelling clay or pottery clay can help children develop important skills and competencies. The child acquires a sense of his/her body by creating representative clay figures and develops coordination. Builds strength in arms, wrists and fingers. Improves fine motor skills and dexterity by manipulating the tools and the clay..
Recommended age: 6 to 12 years old
Program: Monday to Friday 17:00 - 21:00, Saturday - Sunday 12:00 - 21:00
Duration: 1 hour
Price / workshop: 50 lei / child
Additional information:  kids@artsafari.ro
Free admission to the exhibitions for children up to 12 years old, only when accompanied by an adult. Adults must purchase an entrance ticket to accompany the child to Art Safari workshops.