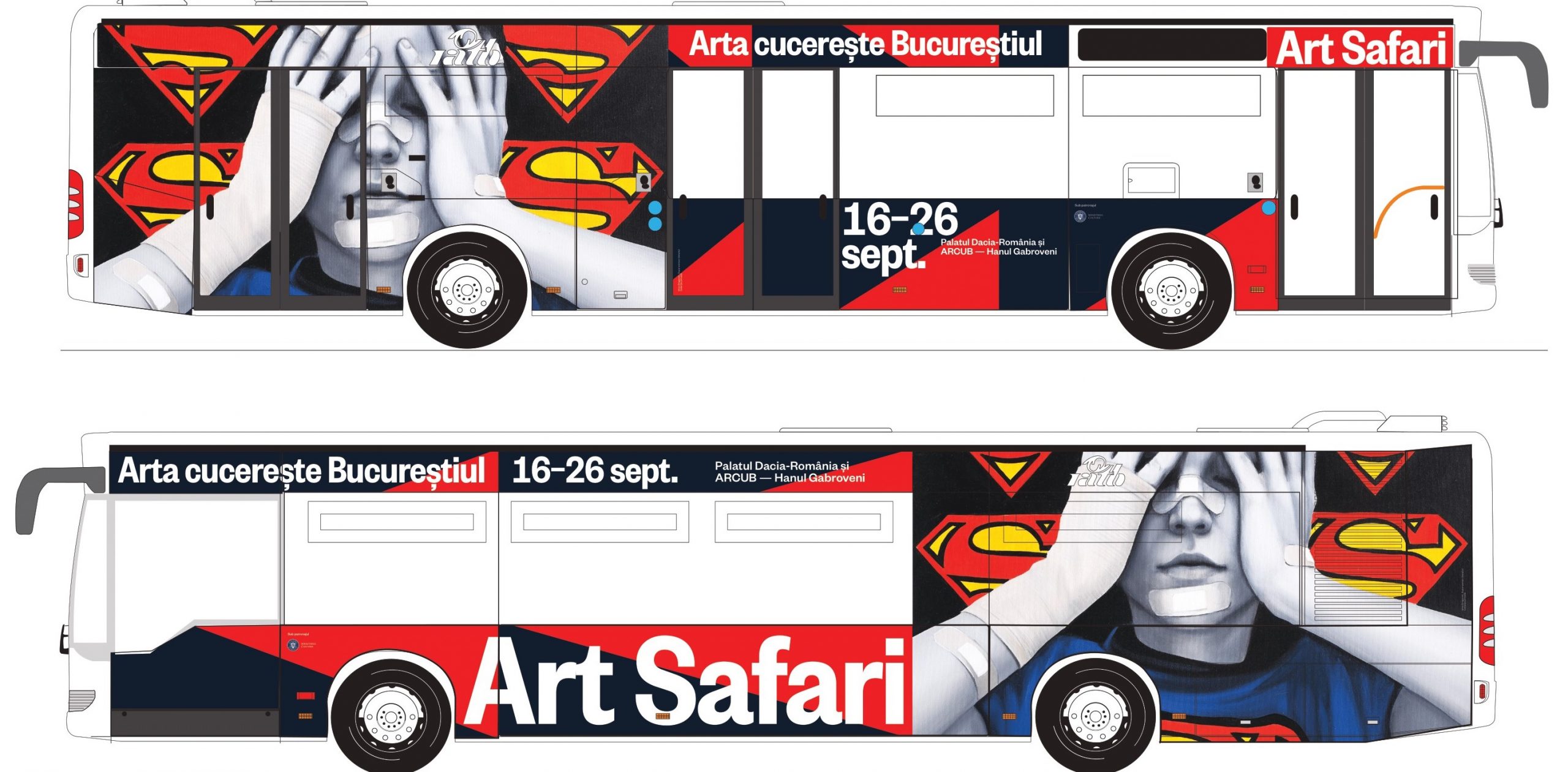 Art Safari takes the bus
Art Safari gets on STB buses and travels all over Bucharest until the end of September. Starting today, "Art travels" in Bucharest thanks to the unique cultural partnership between Art Safari and the Bucharest Transport Company.

10 bus lines that cross the capital from north to south and from east to west are decorated with reproductions of some of the most important works from the Art Safari 2021 exhibitions (16-26 Sept 2021). Are you curious about the artistic buses? The 10 bus lines of the new Museum in Motion are: 335, 135, 331, 783, 138, 282, 104, 182, 330, 136.

"Art travels" is a unique initiative in the cultural landscape of Bucharest and joins the subway museum and the Henri Coandă International Airport – Art Safari Airport Museum.

"Today, we invite you to leave your cars at home and enjoy a bus trip. You have the opportunity to admire the exceptional reproductions of Mutzner, Piliuță and Irina Dragomir on the public transport of STB and to enjoy art. "Art travels" promotes Romanian heritage and contemporary art. "Art travels" brings visual art closer to people's hearts and, with the help of STB, it opens the appetite of travelers to see more in September, at Art Safari ", says Ioana Ciocan, the initiator of Art Safari.

"Through this partnership, we want to offer Bucharest passengers a modern and attractive public transport. Starting today, STB will host a new Museum in Motion. Thus, all those who use the buses dedicated to this project, will be able to admire, for 10 days, reproductions of some famous paintings. We are happy to transform, through art, the travel experiences of those who choose to use STB services ", adds Adrian Criț, STB director
The cultural partnership between Art Safari and STB does not stop here. "Art travels" also introduces us to a unique exhibition hosted by Art Safari, which will be dedicated to the history of public land transport in Bucharest, a history that through archive images will tell how much it has changed but also how beneficial it is for the city and for air quality use of public transport.