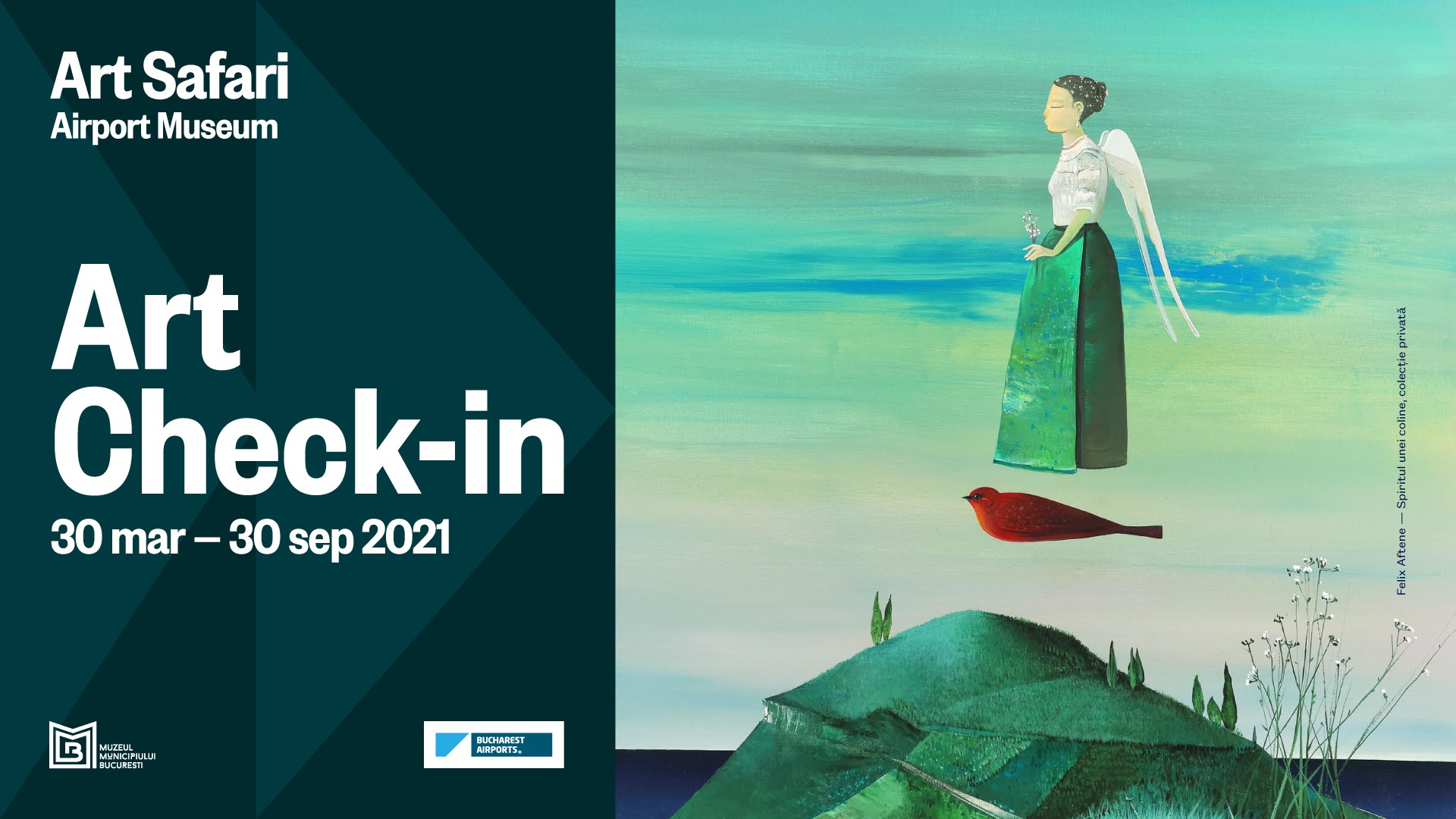 Art Safari opens a Romanian Art Museum at Otopeni Airport
Art Safari and the Bucharest Airports National Company launches the Art Safari Airport Museum, whose first exhibition will be opened between March 30 and September 30, 2021, in the boarding area of ​​Henri Coandă International Airport in Bucharest.
Airport Museum is organized by the joint initiative of Art Safari and the Bucharest Airports National Company and is the result of a cultural partnership that aims to promote Romanian art, both historical, heritage and contemporary. Following the model of the world's major airports – San Francisco, Istanbul, Amsterdam or Shanghai – which exhibit in their terminals important exhibits representative of the history and art of the host country, exhibition showcases at Bucharest airport will help communicate national identity through visual arts and enhance the travel experience.
The first exhibition hosted by Art Safari Airport Museum is organized in partnership with the Bucharest Municipality Museum and includes some of the representative paintings from the recent patrimony of the Pinacotheque – Alexandru Ciucurencu, Vasile Grigore, Ion Musceleanu, Spiru Vergulescu, Ion Grigore, Zamfir Dumitrescu etc – but also contemporary works of art signed by Sami Briss, Georges Mazilu, Ana Ruxandra Ilfoveanu, Petre Velicu, Felix Aftene etc. The organizers plan to renew the exhibition with new heritage themes and artists, every six months.
"Art Safari Airport Museum is the example of a public-private partnership that I would like to see applied as often as possible in the cultural-creative sector. This time, the Cultural Gate to Symbolic Romania materialized. Henri Coandă Airport is the first contact with our country of foreign tourists, who thanks to this museum will be able to complete their impressions about the Romanian reality with subtler images, of its cultural evolution, coming from the patrimonies of Bucharest museums – and not only. I invite everyone passing through the airport to take at least a few minutes to stop here. Plus, this space is a unique alternative to waiting rooms. Congratulations to everyone involved!" said the Minister of Culture, Bogdan Gheorghiu.
"Airports occupy an important place in our lives, being the first stop where people come into contact with another country. That is why we strive to turn the time spent in this space into a unique experience, giving them some clues about what Romania means. Romanian art is a convincing proof, so that, in an extremely delicate current context, we support Romanian art, promoting it and presenting it to the public in a dedicated space of Henri Coandă International Airport. In this way, we try to draw the attention of the passengers, Romanian or foreign, on some essential symbols for our identity, in order to gain confidence, inspiration, vision for tomorrow. We are convinced that we will be able to successfully go through one of the most critical periods in history, not only through the economic involvement of the company I run, but also through our joint cultural, artistic and social efforts ", said the General Manager of the Bucharest Airports National Company, Cosmin Cătălin Peșteșan.
"The messages revealed in informal areas, where you do not expect to meet them, remain long imprints in the collective memory. That is why Art Safari, Henri Coandă International Airport and the Museum of Bucharest offered their support, to give travelers an opportunity to remember, but also an urge to return to their country. " (Dr. Adrian Majuru, Manager of the Bucharest Municipality Museum)
Art Safari, an independent cultural operator setting off on the Romanian art scene, is best known for the annual organization of the Bucharest Art Pavilion, whose exhibitions have been visited by approximately 195,000 people in the 7 editions so far. Along with the curatorial exhibitions, organized in Bucharest or abroad, Art Safari promotes educational content for all ages, including hosting art workshops for children and guided tours for children and teenagers.
photo: sorinstana.ro